EDIT MAIN
OH-YES Survey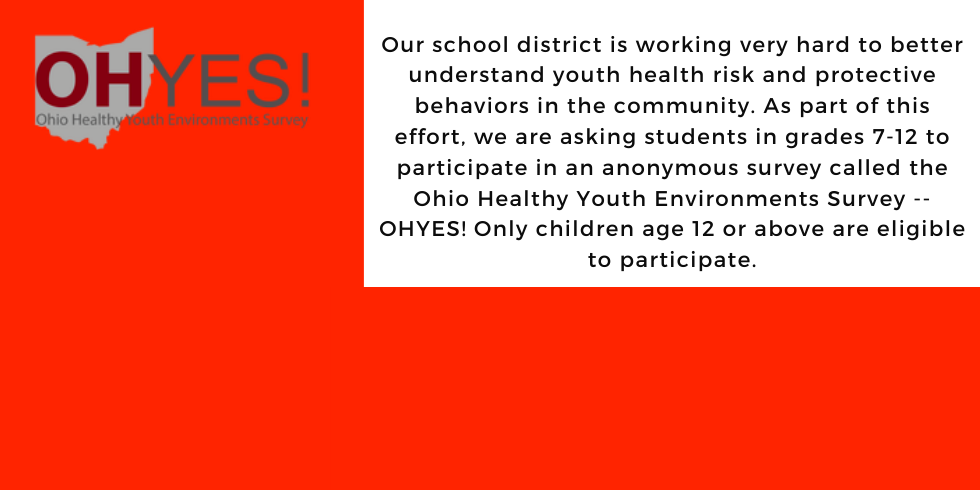 The Live survey link/URL is:www.ohio-yes.org
Students can quit the survey at any time and it takes them to the survey completion screen. When students have completed the survey they will hit exit and it takes them back to the start page. Some students take the survey faster than others, please make sure to let students know what they can do when they have completed the survey.
Message from the Principal
I would like to welcome guardians and students to Rock Hill Middle School. As a graduate of Rock Hill, it is an honor to serve as your child's principal. My philosophy is the academic success lies within the cultivation of building a strong community, teaching the standards, and constructing strong professional relationships with stakeholders. The fostering of academic networks between staff members and guardians plays a crucial role in bridging the gap seen in schools today. These partnerships build trust and community. As a result, our children will gain the necessary confidence to ask questions in class, be motivated to come to school each day, set goals, acquire a thirst for knowledge, and leave a lasting legacy as he or she enters the next chapter of life. Our goal as educators is for your child to achieve inside and outside of school. I want every child to know they have a purpose as a member of our middle school community. Thank you for helping us build a better school for a better tomorrow.

Jason Owens, Principal

---
Virtual Learning Option
Directions for students and parents/guardians wishing to choose the virtual learning option for Rock Hill Middle School.
1.Please view the APEX online tutorial video below.
2.Please view the Rock Hill Middle School Remote Learning Contract below.
3.Please view the Rock Hill Middle School Handbook located below.
4.Please view the Rock Hill Local Acceptable Use Agreement below.
5.After completing the steps above, each student and parent/guardian must sign and complete the Rock Hill High School Remote Learning Sign-Off Sheet.It must be returned to RHMS Secretary, Michelle Simpson, at Rock Hill Middle School no later than Thursday, August 27th, 2020.