To All Pre School and Elementary Parents: Beginning Monday, September 12th, 2022, all buses will begin loading at the front of the building. As a result, there will be a few changes in the pick up procedures for a couple of our grade levels. Kindergarten pick ups will now be held at the pre school entrance and the third grade pick ups will occur at the third grade door that leads to the black top area where the basketball goals are located. All M. C. bus pick ups will take place at the pre school entrance. All other grade level pick ups will remain the same. All parents picking up students MUST be off the parking lot no later than 2:30 p.m.

To all Pre School and Elementary School Parents: Effective today, Pre school dismissal for parent Pre K will begin at 2:00 p.m.. All Kindergarten through 5th grade parent pick ups will begin at 2:15 due to bus loading changes the district is implementing to help improve efficiency. The pick up times are changing to allow sufficient time for the front parking lot to be cleared of all student pick up traffic. Buses will now load at the front of the building in the bus parking area beginning at 2:30 p.m. Bus unloading and student drop off for the morning will not change. The Rock Hill Local School District appreciates your patience and cooperation in making this transition as smooth as possible for the safety of our students.

The Rock Hill Local School District Board of Education will hold a special meeting September 6, 2022 at 6:00pm at the Central Office to consider and possibly act on the following: the employment, demotion, promotion, dismissal, discipline or compensation of an employee, bus drivers and security measures. The Board may also consider any other business that may be necessary to transact by board action.

The Rock Hill Local School District Board of Education will hold a special meeting on Friday August 26, 2022 at 7:00 a.m. to discuss and possibly act on the employment, demotion, promotion, dismissal, discipline or compensation of an employee and security measures. The Board may consider any other business that may be considered necessary to transact by board action.

Hello this is Mr. Hopper, I just want to send out a brief message to clarify events of today at Rock Hill. We were asked by law enforcement to go on a heightened alert status due to an incident involving a shooting that occurred within our school district toward one of our teachers on State Route 93 at the old middle school on her way to work. Thankfully no one was injured. We went on a soft lockdown in all buildings as a precautionary measure until the suspect was apprehended this afternoon. At no time were any staff or students in any danger as a result. Sincerely, Mr Hopper

It was a great first day at Rock Hill Middle School. Im very proud of our students helping one another to make the day go smoothly. Students heard my mission statement multiple times today: Come to school each and every day on time, treat others the way you would want to be treated, and do your best in all your academics. These are crucial to my vision of creating an academic foundation that will continue to be built upon, allowing students the opportunity either to go to college, vocational school, or complete post secondary training in order to become a productive member of society.

Rock Hill Middle School would like to welcome back staff and students tomorrow. Please make a note that student drop offs and pickups by car will remain the same as last year. If you are dropping your child off in the morning by car, follow the signs on the east side lot to the one way location behind the school. You will then stop at the stop sign on the other side of the building to allow your child to enter the west wing entrance. That door will open at 7:15 a. m. for entry. Teachers will be on duty for your children. On the other hand, those who pick up middle school children by car at the end of the day will park on the east lot. Designated pickups will then walk up to the east wing exit between the annex building and locker room to sign their child out. Teachers on duty can ask for identification for the safety of a child. Teachers will begin lining up pickup students inside the building at 2:40 and will walk them to the east wing exit in an orderly manner. All guardians will remain outside as the child is released to his or her designated individual. Morning drop off or afternoon pickup cars are prohibited to drive on the lot in front of the building, as this is for buses and staff parking only. Please remember buses have the right of way. A map of these directions has been posted online. Thank you for your cooperation in keeping our kids safe.

Most routes are the same as last year with a few having minor changes. The first few days please plan to have children waiting approximately 10 minutes earlier than in the past until times can become consistent. Please contact Bill Barker - Transportation Director with any questions at 740-532-7030 Option 4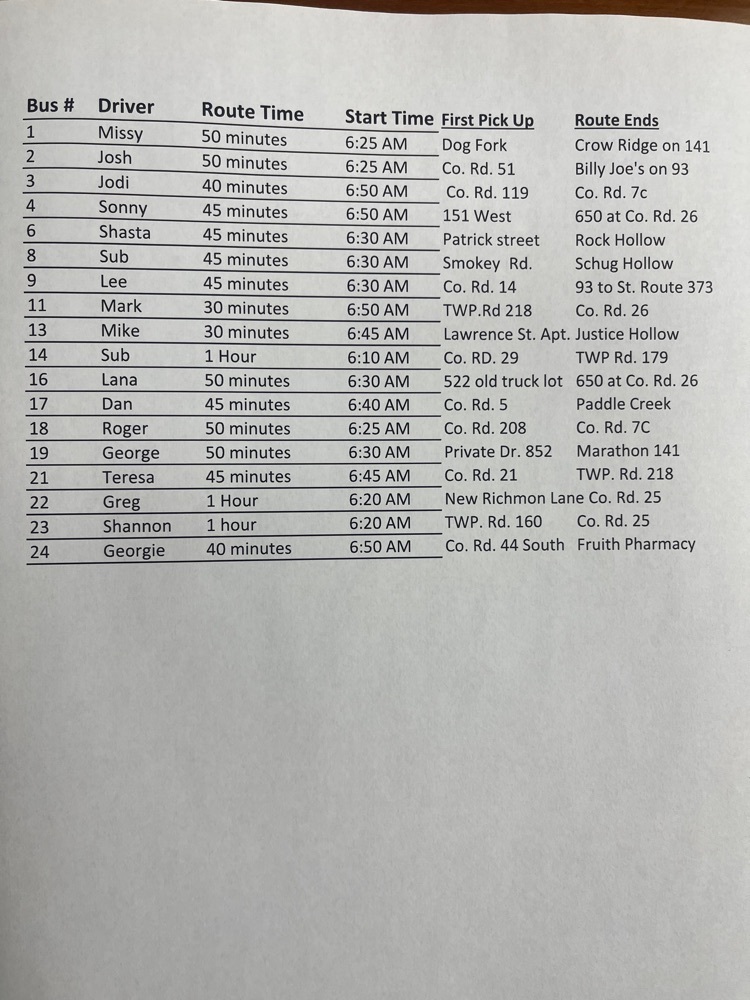 Meet the Redmen will be tonight. Food will be served behind the high school starting at 4:30 with Meet the Redmen starting at 6:00 and open house following until 8:00 p.m. Hope everyone can come out and join in the fun!!

We apologize that part of our 6th grade orientation recognition call was not fully recorded due to a system glitch. We want to give a special thanks to the 67 percent of our 6th grade families in attendance this evening and recognize everyone who volunteered their time to make this happen. Go Redmen.

Rock Hill Elementary will be having a Kindergarten registration on Tuesday August 9th from 10 to 2 at the elementary. Please bring the child's birth certificate, social security card, shot record, and custody papers if applicable. Your child must be 5 by August 1st to be able to attend Kindergarten this school year.

Youth Soccer sign ups will be this evening from 6-7:30 at the youth field concession in front of the elementary. Must be 1st through 6th grade to sign up and the fee is $25.00.

Any elementary student interested in running cross country, first practice will be Monday, August 8th at 5:00 at the middle school.

Any Middle school or high school student interested in running cross country this year, first practice will be Monday, August 1st, at Two Points campground Lake Vesuvius at 6:00pm. If you have any questions please contact Coach Mark, Mike, or Sarah.

The third and final session for the Elementary summer school program will begin on Monday, August 1st. and run through Thursday, August 4th from 8:30 to 12:00. Drop off and pick up will be in the 3rd grade (purple) wing. Bus drivers should be contacting parents to notify you of pick up and drop off times. We encourage all students to attend!

Any 7th or 8th grade girls interested in playing volleyball should report to the middle school gym on Monday from 5-6:30. No experience is required to play and all eligible girls are welcome to attend.

All students entering 7th and 12th grade for the 2022-23 school year must have additional immunizations before school starts. 7th grade students must have a Tdap and a Meningococcal vaccine 12th grade students must have a Meningococcal vaccine Students must give an up-to-date copy of the new immunizations received to the building Nurse. Parents can call Rock Hill Family Medical Center at 740-643-8688 to schedule an appointment for students to receive the required immunization.

Please see attached notice.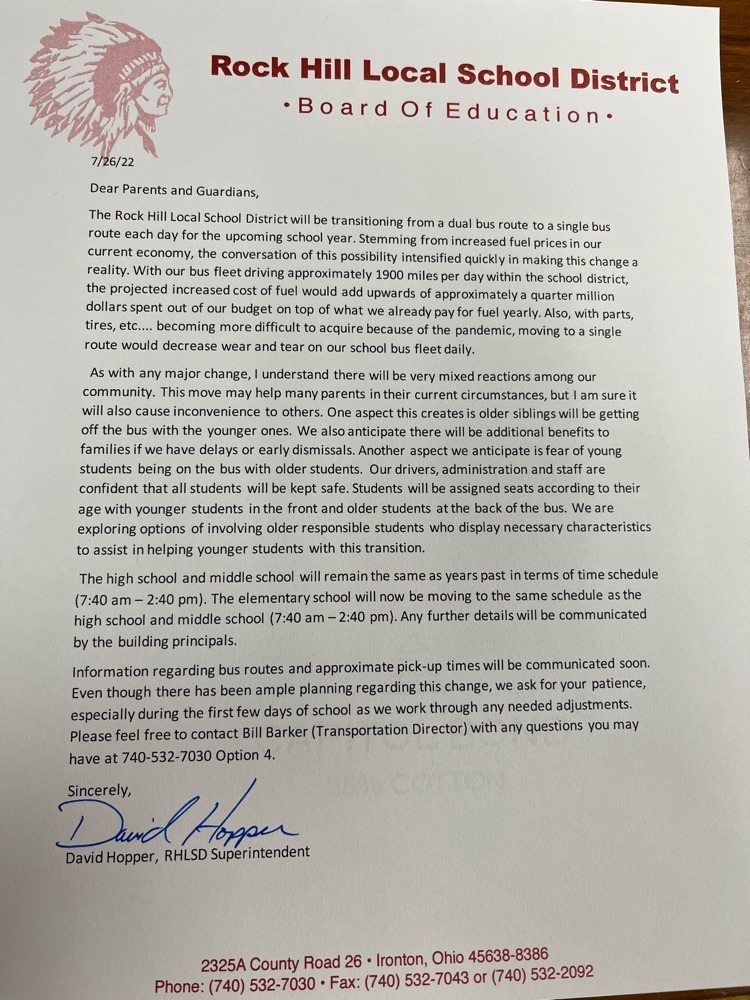 We are proud to announce RHMS will be having a 6th grade orientation on August 11th from 3:00 - 6:00 for our new students and their guardians coming from the elementary school. Please view RH Redmen Live for further details. Those students or guardians unable to attend may meet staff and etc. during the district open house night scheduled days later. Special thanks to our staff for their shared leadership in making this orientation happen and a shoutout to Mr. Zach Howard for the infographic posted on Facebook.

This is a reminder, the 2nd session of Elementary Summer School begins on Monday, July 25th and runs thru Thursday, July 28th. Each day will begin at 8:30 am and will last until approximately noon. Parents can drop off and pick up their children at the 3rd grade wing (purple wing) blacktop doors.