Congratulations to Emma Scott for winning middle school homecoming queen and Brady Cremeans for winning homecoming king. We would also like to recognize our middle school football team for defeating Chesapeake yesterday at the homecoming game. Great job!

This is just a reminder that the first grading period will come to an end at the close of school this Friday. We will begin The Power of ICU the start of the second grading period.
Rock Hill Little League Football B & C Teams both continued their winning ways this past Saturday by posting shut out victories over the Coal Grove Hornets. The B Team won by a score of 28-0, and the C Team won 24-0. Great Job Boys, Keep Up the Good Work!

RH Elementary PTO will have it's October meeting tonight at the Elementary school. Trick or Treat will begin at 6:00 and the PTO meeting will begin at 7:00, with the costume contest taking place immediately after the meeting. Please come join us for an evening of fun and bring your best and most creative Halloween costume!
The RHHS Scholastic Boosters Meeting originally scheduled for tomorrow evening has been postponed until Tuesday, October 29, at 6:00.
A message from Mrs. Zornes: Attention seniors and senior parents/guardians: The first round of cap and gown orders will be taken Monday, October 7 at 8:00 am in the multi use room. If a senior is ordering any size package, a $100 deposit will be due . Any type of payment will be accepted - cash, debit, check, credit or money order . Upon ordering, 10-12 items will be passed out such as: T-shirt, hoodie, leggings, joggers etc. ALL packages contain a cap and gown unit.  The remaining balance would be due in late March/April. If a senior is ordering individual items, full payment is due upon ordering . A cap and gown unit is the ONLY item necessary to be worn for graduation (cost is approximately $55). Note this is only the initial ordering date. Seniors may order online anytime between tomorrow and January 1 by going to herffjones.com and clicking on Rock Hill. Please note on ALL order forms the need to calculate shipping, handling and Ohio Tax. **Rock Hill seniors attending the Collins  Career Center will be meeting with the Herff Jones rep on October 14 at CCTC for their convenience . All cap and gowns and personalized products, regardless of whether the senior attends Rock Hill or CCTC will all be delivered the same day ! This is company policy not Rock Hill. * Any senior - College Credit Plus or CCTC can click the link and type Rock Hill High School to place an order anytime online or contact the Herff Jones rep through the link as well.
Rock Hill Elementary would like to congratulate, and recognize the building spelling winners that will be competing in the district spelling bee with the Middle School. They are: Meredith Rogers, Abby Corbin, Haven Noel, Alexa Porter, and Trinity Matney. The District spelling bee will be held on October 17th, at the Elementary School at 10:00 a.m. STUDY HARD, AND GOOD LUCK GIRLS!!!
Congratulations to the jv football team for their victory over Fairland tonight 14-0!!
Congratulations to the Little League B,C, and Flag Football Teams for their wins over the Chesapeake Panthers on Saturday. Fantastic Job Boys!!

RHMS has a lot to celebrate based on 2019 Ohio School Report Card. The information below was compiled from 4 counties: Lawrence, Scioto, Gallia, and Jackson.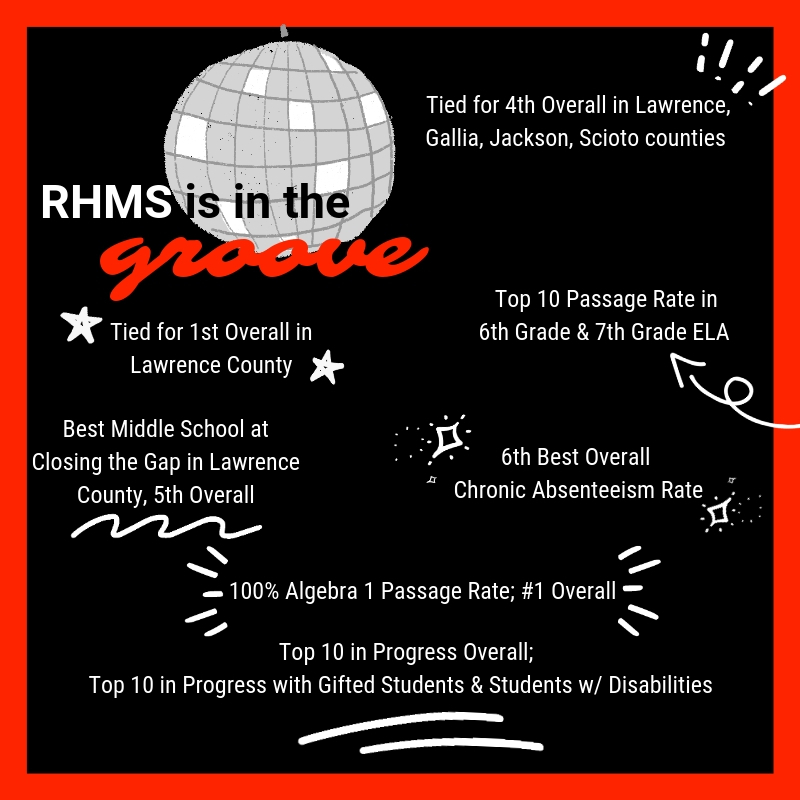 Congratulations to the RHHS Girls Cross Country Team for their first place finish in Portsmouth today. So much to be proud of within our district. Great job to all involved!!
Congratulations to everyone involved with the Pride of Lawrence County! Our band qualified for State Finals and was named Reserve Grand Champion with their performance at Portsmouth West this evening! 👏👏

After careful evaluation of each middle school's State report cards in Lawrence, Scioto, Gallia, and Jackson counties, I am proud to announce that Rock Hill Middle School tied for 4th in the overall performance category. We are steadfast in the continuation of student growth.

REDMEN soccer move to 7-6 on season with win over Greenup County Kentucky 3-0. Goals by Jasson Aguilera, Brady Floyd and Sam Simpson. Hunter sparks and Defense, 2 saves, 6th shutout of season.

Notice is hereby given that there will be a special meeting of the Rock Hill Local board of education of Lawrence County, Ohio, on the 28th day of September 2019 at 9:00 o'clock a.m. at the Rock Hill Board of Education offices to consider the following items: Discuss and possibly act on the appointment, employment, promotion, demotion, dismissal, discipline or compensation of an employee. Consider and possibly appoint a member to the vacant seat on the Rock Hill Local School District Board of Education. And any other business that may be considered necessary to transact by the board.

Great job to our cross country teams yesterday. Middle school boys placed first, and the middle school girls placed third in the Ohio-Kentucky Meet hosted at Rock Hill. Special thanks to all involved.

Congratulations to Mrs. Gore for obtaining a grant that will assist the STEM program she utilizes in her classes!.
Congratulations to the members of this years Homecoming Court !! Freshman attendant-Vasti Aguilera Sophomore attendant- Ashlie Howard Junior attendant- Paige Bailey Queen Candidates- Aniston Holtzapfel Shay Holtzapfel and Larkin Moore
Congratulations to all of the Rock Hill Little League Football Teams for their victories on Saturday over the Fairland Dragons. The A Team won by a score of 16-6, the B Team by a score of 22-0, and the C Team won 6-0 in overtime. Great effort by all the teams! Keep up the good work boys!

Tonight's High School Soccer game times changed: Girls start at 5:30 - Boys at 7:30